The actions of Imam Mohammed Mahmoud in the immediate aftermath of the terrorist attack on Muslim worshipers outside the Muslim Welfare House in the Finsbury Park are of London is the embodiment of the true spirit of Islamic leadership.




One person has died and at least 10 others were injured when Darren Osborne allegedly drove his rented van into a group of Muslims who had just finished Ramadan night prayers at the Mosque. The attack, which has been deemed a suspected terrorist attack is a sinister manifestation of rising anti-Muslim hatred and the emboldening of extreme far-right activists.
Despite the horrific nature of the attack, it was the actions of Imam Mohammed Mahmoud in the immediate aftermath that should be remembered and commended for its bravery, foresight and strength of character. Imam Mohammed's swift intervention to pin down Darren Osborne as he fled his vehicle and prevent the angry crowd that had gathered from harming him has been praised by the community, not just because it aided in the arrest of the perpetrator but because of the character and leadership that was shown to bring calm to a very frenetic situation.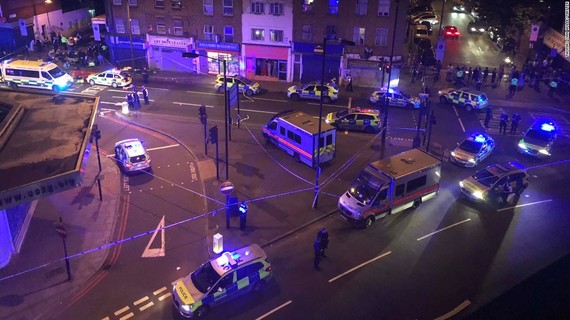 At a time when Islamic faith leadership is under scrutiny, the actions of Imam Mohammed have embodied the true spirit of Islamic leadership and is something that should be praised, encouraged and emulated. Imam Mohammed had the bravery to face the threat of the perpetrator head on and understand the importance of seeking to bring him to justice for his crimes through the proper channels rather than taking the law into his own hands. There is no doubt that Imam Mohammed's actions helped prevent further injuries and loss of life.




An individual's aptitude for leadership shows itself when faced with the most challenging circumstances. At the time of the attack, when emotions were running high and there was a lot of commotion around him, Imam Mohammed's ability to stay assured, assess the situation and bring calm to those around him reiterates the importance of having strong community leaders in difficult circumstances.




The Imam's actions will no doubt have endeared his congregation to get behind him and will have increased the respect they have for him. I see Imam Mohammed's actions as the true epitome of what a strong Islamic faith leadership should be and would encourage other current and prospective Imams to take a lesson from his book and deal with difficult situations in the same calm and assured manner. In the fight against extremism and extremists, some uncomfortable truths will need to be acknowledged, which may pit Imams against the mindset of the communities they serve – but this is leadership. It can be a lonely place but if Imams don't stand up and be counted then more lives may be lost.




ImamsOnline.com has championed Imams Like Mohammed Mahmoud, whom, when in the moment of crisis, have shown clarity and fortitude against voices of vengeance and destruction.




The role of the Imam in modern society has evolved and although there is an onus on his religious aptitude and duties, there is an argument to say that in today's challenging socio-political context the ability for an Imam is to think on his feet and assess a situation to ensure that things don't get out of hand may come to ultimately define his leadership qualities.




Follow Shaukat Warraich on Twitter: www.twitter.com/shaukatwarraich
Source:  http://www.huffingtonpost.co.uk